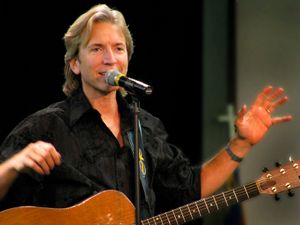 Dan Adler is a singer, songwriter, guitarist, music publisher, producer, recording artist, minister and the co-founder of Heart of the City Ministries – a multi-ethnic ministry which has, since 1996, been bringing a message, model and experience of multi-ethnic worship and Biblical unity to thousands of people through the live performances and many recordings of the multi-ethnic, multi-denominational and multi-generational Heart of the City Worship Band.  Dan was the Worship Pastor at the Church of the Open Door in Maple Grove, Minnesota from 1985 to 1996 and was a part of seeing that congregation grow from 350 people to over 5000 during that period of time. Dan was also a worship leader for the national Promisekeeper's men's ministry from 1995 to 1996.  He has written over 200 songs – most of which have been recorded on the many CD's that he has recorded.  Some of his songs have been published with various Christian publishing companies and several have been recorded and sung internationally. 

Throughout the year, Dan also leads Worship Renewal Weekend seminars in various congregations - bringing a Biblical understanding and renewal to congregational worship.  He has also been a guest speaker at several national music conferences. 

In conjunction with his Songs for the Battle CD, Dan combines his music with speaking at men's retreats and conferences - bringing an engaging and powerful message of honesty, hope and integrity.

Dan and Sandy have been married since 1984.  They have two adult children and live in Maple Grove, Minnesota.